Search Advisor recommends this product to address the following potential hazards:
CO2 Pipeline
Crossrail Infrastructure
Energy Exploration
Flood
HS2
Radon
Renewable Power
Solar Farms
Wind Farms
Landmark RiskView Residential and Landmark Planning
Supplied by: Landmark
Overview
Purchased together, RiskView and Landmark Planning provide full environmental due diligence for every transaction, protecting your clients investment and the reputation of your practice! This digital 'bundle' package provides homebuyer clients with online access to both environmental risk data and planning application data, via one single order.
1. RiskView Residential
RiskView Residential is an all-in-one environmental report, with the added bonus of a digital viewer for the home buyer. Provides concise and easy to interpret Contaminated Land, Flood, Ground Hazards and Energy & Infrastructure risk data, as well as interactive maps and further information for the buyer. RiskView Residential will include planning applications and planning constraints data, as standard.
RiskView Residential also now benefits from an increased remediation, from £100,000 to £250,000 which is the highest protection available in the market.
---
What's included?
Front page risk summary and clear 'next steps'
Full desktop assessment of 4 environmental risks
Landmark's unique risk assessed land register data
Contaminated Land excess free remediation contribution
Landmark's unique interactive viewer
PI cover of £10 million
---
RiskView Residential is the only 'all in one' environmental report to automatically include a manual risk assessment where the data reveals a significant risk of flooding, resulting in far more flood passes. Uniquely, the height of the property is also considered in relation to possible flood events, resulting in a highly accurate risk result meaning that you get best practice due diligence with smoother, quicker transactions for you and your clients.
---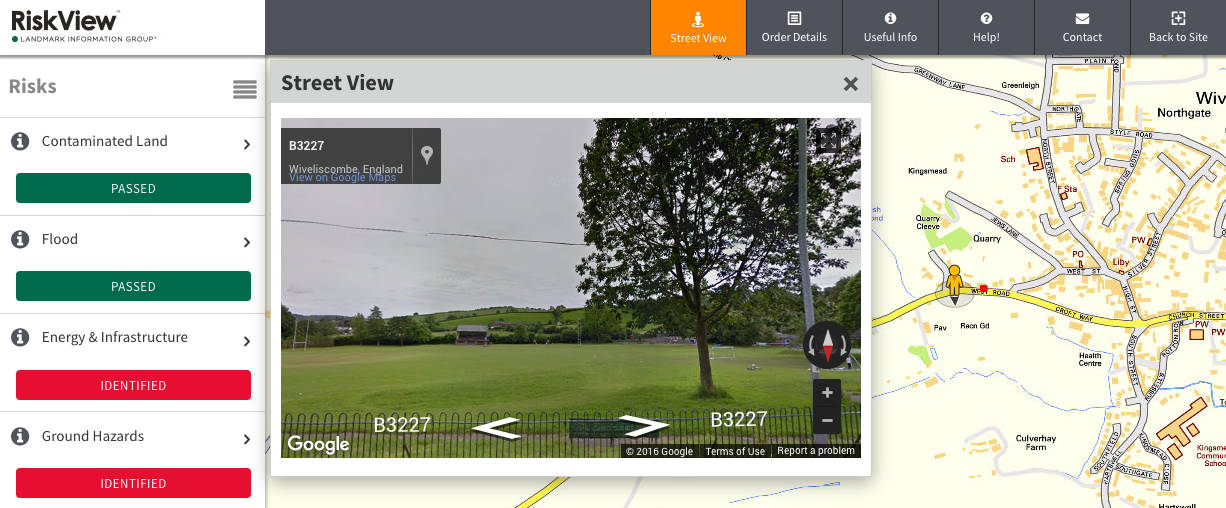 Simplified Guidance
RiskView Residential includes an online viewing tool that's accessible via links embedded within the PDF report. You can now present the environmental and planning information in the way your clients want to see it: quickly and online. Your clients simply click through to a unique interactive map where they can easily navigate around the property and understand any environmental risks and planning information (when purchased with a Plansearch Plus) at their leisure.
***Free report re-ordering service to support homebuyers facing lengthy transaction timescales***
Landmark is offering property lawyers the opportunity to re-order a fresh RiskView Residential report at a later stage of the transaction, for no additional fee. Click here for more details.
---
2. Landmark Planning
The Landmark Planning report will give your clients details on whether there are nearby planning applications that may impact the property as well as any types of development that are currently being carried out in the area.

Landmark Planning will uniquely display data of the majority of the UK's large planning applications as polygons, providing a realistic understanding of the potential impact, both positive and negative, of a development.
---
What's Included:
Planning applications
Land use designations
Housing and neighbourhood demographics
Amenities and education
Rights of way
---
The Landmark Planning report includes the addition of useful 'neighbourhood' information; such as the location of telecoms masts, local footpaths, nearby schools and their performance, housing types and average prices, population demographics and local amenities. This will better inform your client, ensuring they are aware of planning decisions and socio-demographic knowledge within the surrounding area of their potential property.
---
The perfect combination
Each time a RiskView Residential environmental report is ordered alongside a Landmark Planning report, the environmental and planning application data will be added automatically to an online, interactive map viewer, which helps to visually 'bring to life' the findings. This means homeowners can instantly see where any potential environmental risks may be present within a 250m proximity of the property, in addition to active/pending/approved residential and commercial planning applications up to a 750m radius via the mapped viewer.
---
View our product card and sample report for full details.
---
Popular Products
This official CON29DW, available from OneSearch Direct, provides comprehensive data on water supply, sewer connection status and charging arrangements.
A full report on the requirement for radon protective measures in new buildings and extensions
All CON29M data with additional expert interpretation, includes a hazard alert for additional non-coal mineral extraction. Each report is professionally assessed by an experienced mining geologist.