Where do you stand when a transaction falls through?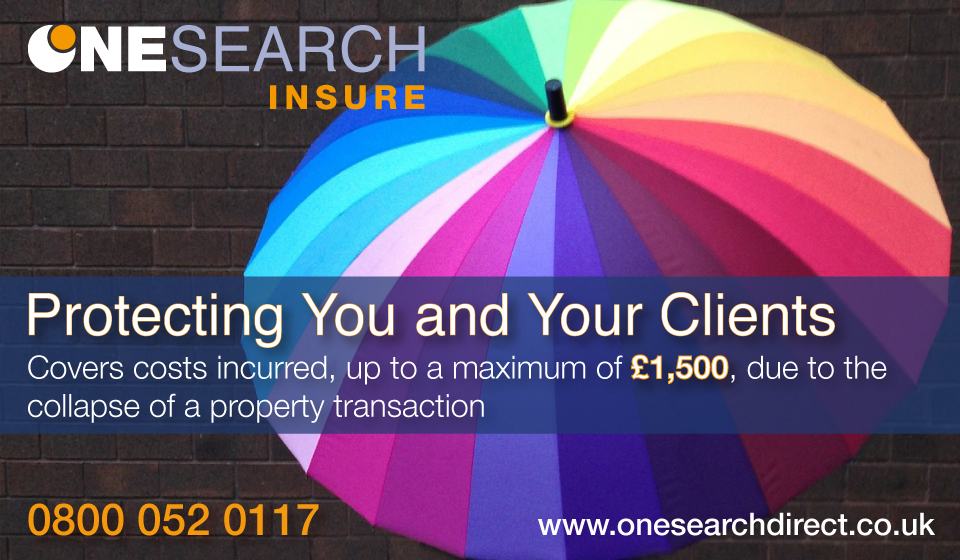 It was reported in
Estate Agent Today
that almost 30% of property transactions fell through in 2015. The claim, made by
Quick Move Now
, highlighted some of the main reasons for a transaction collapse, including:
>>
The buyer changing their mind
>> 
Failure to secure a mortgage
>>
Issues flagged up in the survey
>>
Sellers pulling out for a higher offer We know that moving house is both an exciting and highly stressful time for your clients. When transactions fail to complete for reasons beyond you or your client's control, it can be disheartening and expensive.
Our Insurance protects you and your client
OneSearch Insure is a comprehensive insurance policy, which offers a proactive security blanket, not only for your clients, but for your law firm. Protecting costs incurred - up to a maximum of £1,500 - safeguards your fees, and for the homebuyer returned costs can be put towards buying an alternative home. Conveyancing fees and disbursements are included as part of the policy cover, insuring against a comprehensive list of events where a property purchase breaks down through no fault of your own. This includes:
>>
Gazumping
>>
Vendor withdrawal
>>
Redundancy
>>
Relocation Property transactions failing before completion is an unpredictable headache. This is why we strongly recommend you take out a OneSearch Insure policy, to protect you and your client against the widest range of issues. Having OneSearch Insure as part of your conveyancing offering sets you apart from your competitors, in prioritising Client Care, Due Diligence and Risk Management.
Would you like more information?
To view a product card,
click here
. A sample policy document can be found by
clicking here
. If you require any advice on this policy or wish to obtain a copy of the policy document, please email us 
here
, or call us on 
0800 052 0117
.