New Data | New Look FCI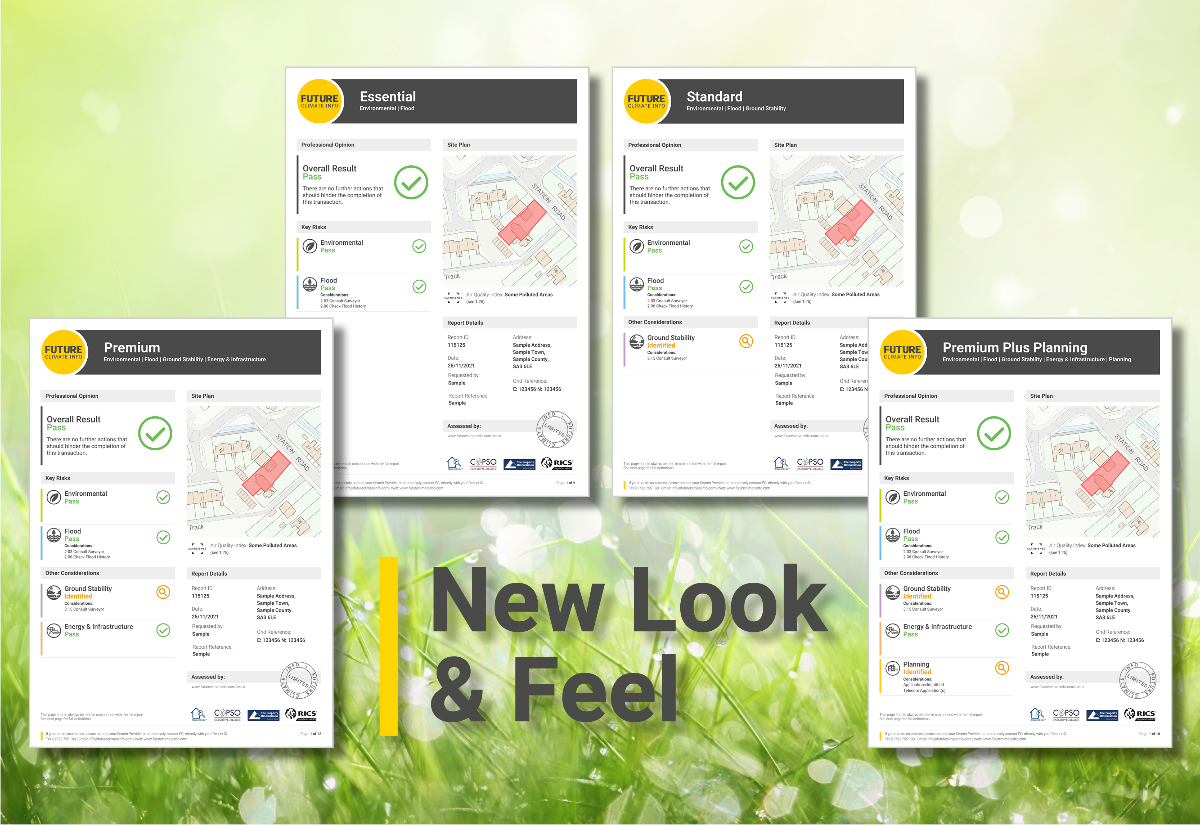 Please be advised of the following communication from our partners Future Climate Info, reproduced below for your information:
---
Rolling out this week from 1st July,

FCI

Essential,

FCI

Standard,

FCI

Premium and

FCI

Premium Plus Planning reports will feature a new, fresh, modern look and feel – providing for greater ease of use and speed of report analysis, whilst still delivering everything you need to know.

Here are some of the highlights:
Overall Professional Opinion - for improved usability, enabling you to quickly ascertain what, if any, next steps are required in relation to the key risks.
Key Risks – for fast identification of the core due diligence requirements, the Environmental and Flood risk results are presented first and foremost, for ease of reviewing the requirements of the Law Society Flood Risk and Contaminated Land Practice Notes.
Risk Colour-coding – within the report, corresponding colours for each of the risks run throughout each section, providing for ease of report navigation.
Other Considerations – Ground Stability, Energy and Infrastructure, and Planning are presented separately and following the Key Risks.
Risk Icons – like those found in our

FCI

Commercial report, provide clear signposting on the front page, helping to differentiate between each of the environmental risks.
Result Icons – Pass, Identified and Further Action – for a fast review of the results.
Considerations and Next Steps – where a Consideration or Next Step is highlighted, helpful details including the corresponding section number are provided, making it easy to navigate to the item of interest.
The British Geological Survey's (BGS) Property Subsidence Assessment (PSA) will be included within all

FCI

search reports containing the Ground Stability module from 1st July 2021.
The BGS Property Subsidence Assessment is an advanced property-specific assessment of shrink-swell subsidence risk.
Shrink-swell refers to a change in soil volume as its moisture content changes. Clay-rich soils can absorb lots of water causing them to swell, the ground to rise and overlying structures to lift.
Where less moisture is available clay soils can become very dry and shrink, leading to subsidence and potential damage to structures. Shrink-swell prone soils are found extensively across England and Wales, with soil shrinkage accounting for approximately 75% of all instances of subsidence.
Whether a property is likely to be affected by shrink-swell subsidence depends on more than just the presence of shrink-swell prone soils. A properties' age, foundation depth and drainage all have a bearing on the susceptibility of the property to any ground movement, whilst the proximity of trees can contribute to the likelihood of movement occurring.
A Property Specific Rating
The PSA from the BGS incorporates the above factors into the assessment to provide an individual rating for each property. This is expertly analysed and intuitively presented by

FCI

to ensure a clear interpretation of the risks.

Where the environmental conditions and characteristics of a property do create the right conditions for shrink-swell, practical expert actionable advice from

FCI

is provided for the benefit of the conveyancer/solicitor and their client to enable them to proceed with the transaction.
In Which Reports Will it Feature?
Residential properties:
the new dataset will be included with all

FCI

Standard, Premium, Premium Plus Planning, Premium Plus CON29M, as well as the standalone

FCI

Ground Stability search reports.

Commercial properties:


FCI

Retail and

FCI

Commercial searches will also include the new advanced assessment.
What Do These Improvements Mean for You and Your Clients?
You will automatically receive the refreshed version of the reports (no system changes required).
A more professional, user friendly report presentation.
An even more robust Ground Stability module, incorporating the latest intelligent datasets.
All with the same robust risk analysis, backed by independent regulation you have come to expect from

FCI

, plus impeccable customer service and consultancy services from our dedicated in-house Risk Team.
Please find updated product cards and report samples via the links below.
If you have any questions or comments, please email

intro@onesearchdirect.co.uk

or get in touch with us on

0800 052 0117

and we will be more than happy to assist you.